24-Port 10/100/1000T + 4-Port Gigabit TP/SFP Combo Managed Switch - WGSW-28040 - Planet






24-Port 10/100/1000T + 4-Port Gigabit TP/SFP Combo Managed Switch - WGSW-28040 - Planet
High-Performance, Cost-effective Gigabit Networking Solution for SMBs
PLANET WGSW-28040 Gigabit Managed Switch, which is perfectly designed for SMB and SOHO network infrastructures. Besides the hot IPv6 / IPv4 management and abundant L2 / L4 switching functions, the WGSW-28040 comes with fanless feature and green technology to provide a quiet, energy-saving, high-speed and reliable office network environment. It benefits the SMB and SOHO users as it is in the Gigabit network environment with the cost of Fast Ethernet switches but at a low price. The WGSW-28040 is quite suitable for the next-generation network deployment and offers the lowest total cost of ownership. It is the best investment for business expansion or upgrading its network infrastructure.

High Performance
The WGSW-28040 provides 28 10/100/1000Mbps Gigabit Ethernet ports including 4 100/1000BASE-x shared Gigabit SFP slots. It boasts high-performance switch architecture that is capable for providing the non-blocking switch fabric and wire-speed throughput as high as 56Gbps, which greatly simplifies the tasks of upgrading the LAN for catering to increasing bandwidth demands.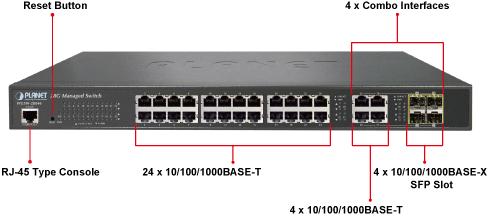 Fanless Design
Adopting the latest chip process and green technology, the WGSW-28040 successfully reduces substantial power consumption with the fanless and noiseless design collocating with the effective cooler. Therefore, the WGSW-28040 is able to operate stably and quietly in any environment without affecting its performance.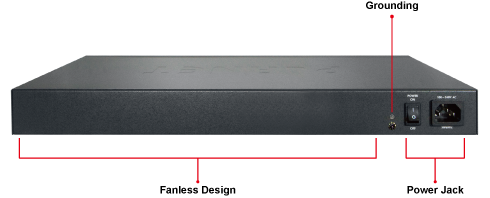 IPv6 / IPv4 Dual Stack
By supporting both IPv6 and IPv4 protocols, the WGSW-28040 helps the SMBs to step in the IPv6 era with the lowest investment but needs not to replace the network facilities while the ISP constructs the IPv6 FTTx edge network.

Robust Layer 2 Features
The WGSW-28040 can be programmed for advanced switch management functions such as dynamic port link aggregation, 802.1Q VLAN and Q-in-Q VLAN, Multiple Spanning Tree protocol (MSTP), Loop and BPDU Guard, and IGMP Snooping. Via aggregation of supporting ports, the WGSW-28040 allows the operation of a high-speed trunk to combine with multiple ports such as a 16Gbps fat pipe and supports fail-over as well.

Efficient Traffic Control
The WGSW-28040 is loaded with robust QoS features and powerful traffic management to enhance services to business-class data, voice, and video solutions. The functionality includes broadcast / multicast storm control, per port bandwidth control, IP DSCP QoS priority and remarking. It guarantees the best performance at VoIP and video stream transmission, and empowers the enterprises to take full advantages of the limited network resources.

Enhanced and Secure Management
For efficient management, the WGSW-28040 is equipped with console, Web, Telnet and SNMP management interfaces. With the built-in Web-based management interface, the WGSW-28040 offers an easy-to-use, platform-independent management and configuration facility. By supporting standard Simple Network Management Protocol (SNMP), the switch can be managed via any standard management software. For text-based management, the switch can be accessed via Telnet and the console port. Moreover, the WGSW-28040 offers secure remote management by supporting SSH and SSL connections which encrypt the packet content at each session.

Powerful Security
PLANET WGSW-28040 offers comprehensive Layer 2 to Layer 4 Access Control List (ACL) for enforcing security to the edge. It can be used to restrict network access by denying packets based on source and destination IP address, TCP/UDP ports or defined typical network applications. Its protection mechanism also comprises 802.1X port-based authentication, which can be deployed with RADIUS to ensure the port level security and block illegal users. With the Protected Port function, communication between edge ports can be prevented to guarantee user privacy. Port Security allows to limit the number of users on a given port. The network administrators can now construct highly-secured corporate networks with considerably less time and effort than before.

Flexible Extension Solution
The four mini-GBIC slots built in the WGSW-28040 are compatible with 1000BASE-SX/LX and WDM SFP (small form-factor pluggable) fiber-optic modules. The distance can be extended from 550 meters (multi-mode fiber) up to 10/20/30/40/50/70/120 kilometers (single-mode fiber or WDM fiber). The WGSW-28040 supports SFP-DDM (Digital Diagnostic Monitor) function that can easily monitor real-time parameters of the SFP for network administrator, such as optical output power, optical input power, temperature, laser bias current, and transceiver supply voltage. It is well suited for applications in the enterprise data centers and distributions.

Green Networking
In line with the energy-saving trend worldwide, the WGSW-28040 adopts the new-generation green technology which brings both benefits of energy saving and Gigabit performance. The new engine provides up to 60% less energy consumption without reducing the performance, and particularly it offers flexible power-saving mode to meet various demands.
Applications:
High Performance Backbone / Server Farm Switch
Gigabit Ethernet supported equipment has become the fundamental unit of enterprises and network servers. With up to 56 Gigabits per second of non-blocking switch fabric, the WGSW-28040 can easily provide the high bandwidth required from now on. It can easily provide a local, high bandwidth and Gigabit Ethernet network for the backbone of enterprises or SMBs. With its port trunking function, a 16Gbps fat pipe is provided for connecting to the backbone if required. It is ideal to be used as a server farm switch to connect servers. With the four SFP ports, the WGSW-28040 provides the uplink to the edge network through Gigabit Ethernet LX/SX SFP modules.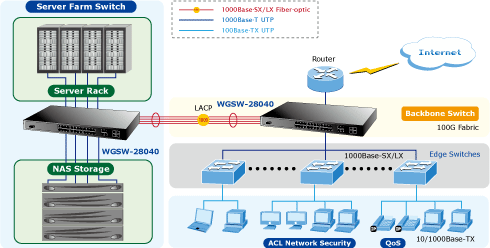 Department / Edge ACL, Security and QoS Switch
The WGSW-28040 improves the network efficiency and protects the network clients with the powerful features:
■ Layer 2 to Layer 4 ACL
■ QoS
■ 802.1X port-based network access authentication security
■ Multicast IGMP snooping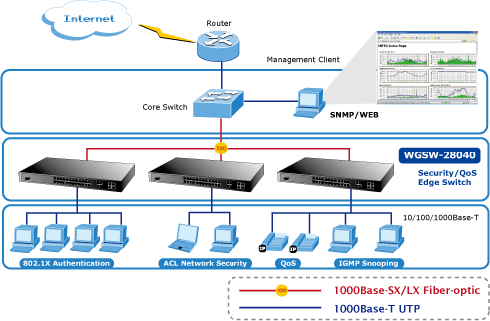 Datasheet:
| | | | |
| --- | --- | --- | --- |
| Date | Version | Description | Download |
| 2014-12-18 | 1.0 | WGSW-28040 | |
Manufacturer
Planet Technology